4.1
rate

+

25

M.
downloads

+

1

M.
users acative

+

200

K.
reviews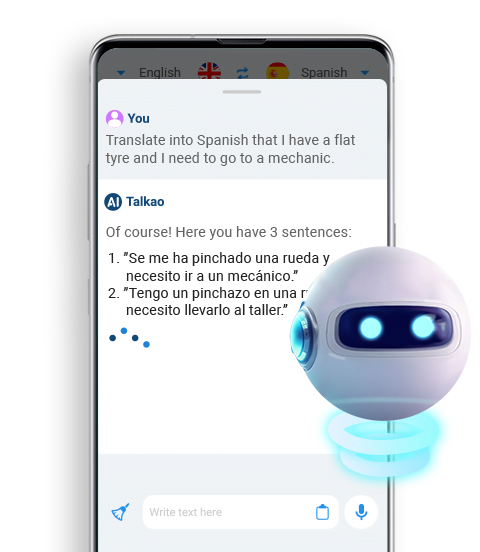 Translator with AI
Talkao Translate's AI translator, conquer linguistic barriers for communication, learning, and travel. Talkao Translate's AI-powered translator unlocks the potential for language communication. Our AI translation engine empowers you to immerse yourself in a unique language experience.
Our technology efficiently composes emails, validates grammatical corrections, and aids you in preparing for interviews or international travel by offering translation in over 125 languages. Resolving any linguistic challenges or doubts is easy and simple.
Download our application to access intelligent translation at your fingertips.
How the AI translator works

Translate Voice
Translate without limits!
With the Talkao Translate app, you can translate your voice to over 125 languages. It's especially helpful if you need to communicate with people from different parts of the world or if you're traveling to a country where you don't speak the local language.
Available languages include English, Spanish, French, German, Chinese, Japanese, and many more.
You can save your translations in the history and mark your favorites for quick access. Share, copy, and listen to all your text and audio translations with ease.
How translate voice works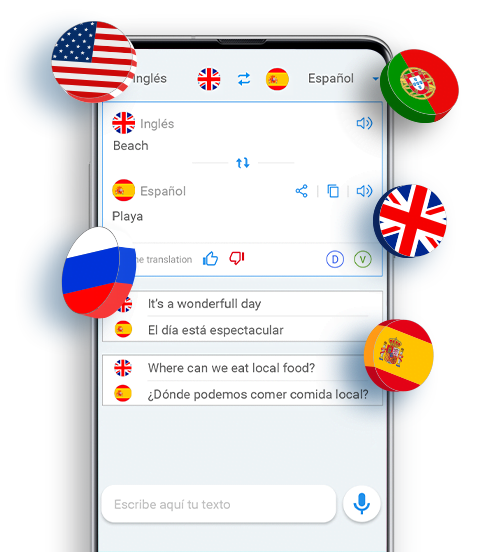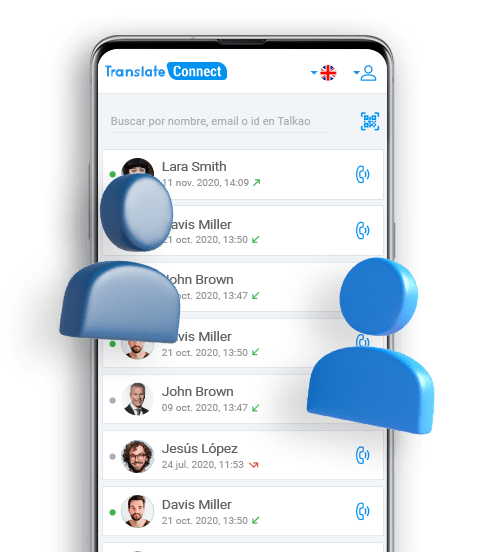 Translate connect
Communicate with anyone around the globe remotely, regardless of distance or language. Connect with other users on Connect by searching for them by name, email, or by scanning their QR code.
The Connect feature will be very useful if you want to learn a new language or if you need to practice your language skills and connect with people from all over the world.
It can also be a valuable tool if you need help in a specific language, as it allows you to connect with native speakers who can assist you in your purpose.

Translate Talk
Have a Real-Time Conversation!
One of the most useful features of Talkao Translate is the real-time conversation function. With this function, you can speak in your language and get an instant translation in real-time between over 50 different languages.
In this way, you can have a real-time conversation with anyone, no matter what languages you speak.
Simply select the languages you want to translate, press the recording button and speak into your device's microphone. Talkao Translate will automatically translate your speech and display it on the screen.
How real-time translator works?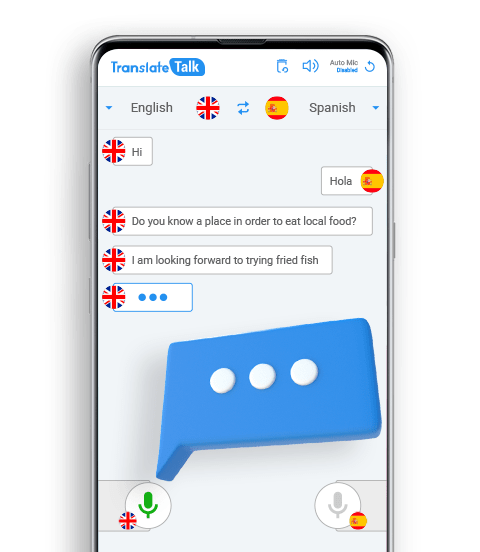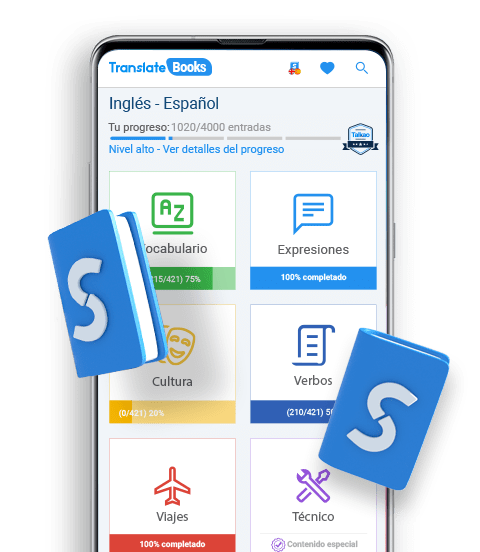 Translate Books
Learn Languages!
With this feature, you can create smart books and learn a new language or several! Select a source language to start with, and a target language to learn. Automatically, over 4,000 entries will be generated for you, divided into different categories: Expressions, Essential, Culture, Verbs, Travel, and Technical.
Our content is professionally developed by native translators, guaranteeing accurate and quality translations. Start learning today!
How smart books works

Translation customization options
Tailor your favorite translator to your preferences
In Talkao Translate, the "Translate Settings" feature is conveniently located in the main menu, and provides multiple customizable options to suit your specific needs and preferences.
Account options
Play audio translations automatically
Translate after speaking
Delete translations
Delete favorites
Clear sound cache
Font size
Clear text after translation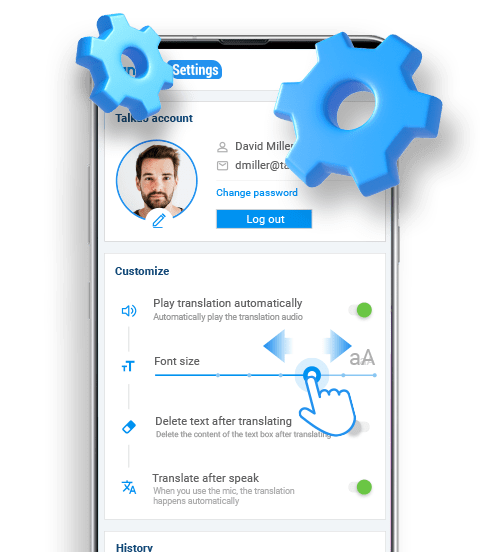 Enjoy the latest advances in artificial intelligence
applied to translation

Advanced translations
Get much more accurate translations thanks to native human translations

Definitions
Get definitions of thousands of words with examples and meanings.

Verbs
Discover all the verb tenses of hundreds of verbs in different languages

Bookmarks
Save your favorite translations so you don't lose them and always have them at hand.

Change color
Change the color of the translations and distort them to your liking

Automic
Discover the Automic function, to talk without being in front of your device.

Historial
Classify your translation history to keep them always organized.

Talk in real time
Maintain real-time conversations regardless of language.

Conect
Connect with anyone remotely.

Talkao certificates
Get your Talkao certificate by passing culture and learning categories.

Smart books
Create smart books to learn languages and much more.

Curiosities
Discover every day curiosities of all kinds that will not leave you indifferent.

"Big help with me and my patient´s folks, since the wife doesn´t speak English at all. This help us both in communicating patient´s condition and family request."

Basalo, J.
"It`s very good yes it is very useful to use it if some updates can be brought then it is very good. However, I would urge everyone to install this app as there is no other translation like this."

Krishna M.
"I can now fully understand the communication with my friend. The voice helps me to catch the emotions in his writings. Great job!"

Janet M.
Previous
Next