Why is it important to be able to translate into the Slovenian language?

Where is it spoken?
Slovenia

Nº of speakers
2.5 millones

Linguistic family
Indo-European – Slavic – South Slavic
Harnessing the power of Slovenian translation unveils the vibrant heritage and traditions of a country steeped in history and cultural richness. Slovenia, situated in Central Europe, plays a vital role on the geopolitical stage, proudly serving as an active member of the European Union (EU).
Slovenian is not only the heartbeat of Slovenia, it also stands as one of the 24 respected official languages of the EU.
Rooted in the South Slavic linguistic family tree, Slovenian shares similarities with its linguistic relatives, such as Croatian, Serbian and Bulgarian.
Precision in Slovenian translation is vital for businesses targeting the dynamic Central European market. It is a key element for clear communication, fostering business expansion, bridging cultural divides, and ensuring legal compliance without loopholes.
Slovenian legislation allows no opportunity for confusion: official paperwork, important agreements, and direct interactions with customers must be conveyed without error in Slovenian.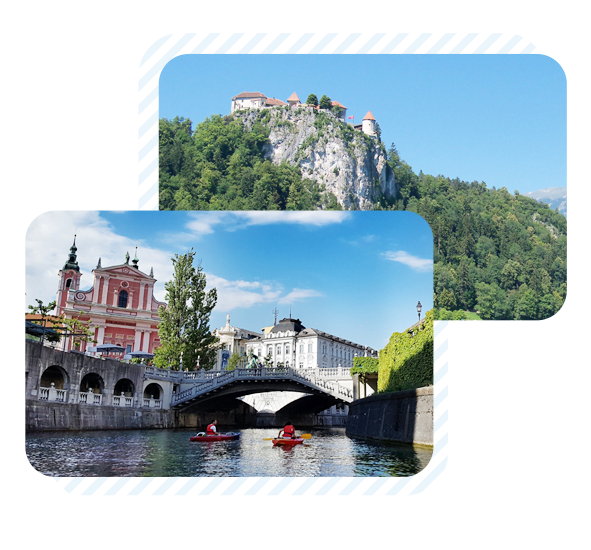 The most translated languages into the Slovenian language

Slovenian
German


Slovenian
Italian


Slovenian
Hungarian


Slovenian
Croatian

Learn to speak in Slovenian like a true native
Advanced vocabulary
| | |
| --- | --- |
| Krasnopisje | Calligraphy |
| Dobrodelnost | Philanthropy |
| Prijateljstvo | Friendship |
| Zadovoljstvo | Satisfaction |
| Raziskovanje | Research |
Other curiosities
Slovenian is one of the most diverse languages in Europe, with more than 50 dialects.
It is one of the few languages in the world that features dual grammar, a linguistic element that has been lost in many languages.
The flexible grammatical structure of Slovenian allows a large number of ways to convey a singular concept.
While Slovenian uses the Latin alphabet, it includes additional letters.
Slovenian belongs to the Slavic language family and has been spoken since the 6th century AD. However, its modern written form emerged in the 16th century AD.
We offer Slovenian language support in multiple services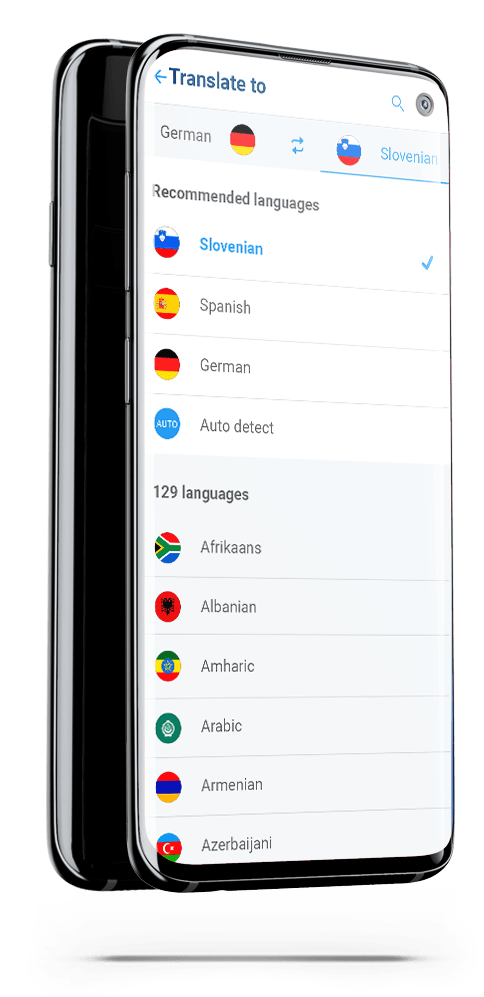 Audio and Text Translation
Slovenian language translator among over 125 available languages.

Remote Conversation Translation
Speak and translate to Slovenian with people anywhere in the world remotely.

Real-time Translation
Speak freely. Translate Slovenian instantly in real-time.

Audio Playback of the Translation
Listen to the audio of the Slovenian translation to improve your pronunciation.

Voice Recognition
Speak freely and your app will translate for and to you.


Enjoy the best advancements in artificial intelligence applied to translation