Why is our Spanish language translator important?

Where is it spoken?
Spain (there are other co-official languages in some regions, such as Catalonia, Galicia and the Basque Country).

Nº of speakers
46 millones (Spain)

Linguistic family
Indo-European – Italic – Romance
Not to be confused with Latin American Spanish, European Spanish, also known as Castilian, has its historical roots in the northern parts of the Iberian Peninsula. Over the centuries it has flourished and spread to the south and west to become the main language of what is now Spain.
Through the pens of iconic authors such as Miguel de Cervantes in his famous 'Don Quixote de la Mancha', it is the language that has enchanted generations.
As the official language of Spain, Castilian has a rich variety of dialects and accents. However, it is Northern Castilian, or 'standard' Spanish, that has gained the most recognition on the world stage.
The Royal Spanish Academy (RAE), located in the heart of Madrid, is the ultimate authority on the regulation and standardisation of Spanish for those interested in learning the language.
It offers speakers and learners a window to a world rich in tradition and literature, a language that resonates with history, culture and passion.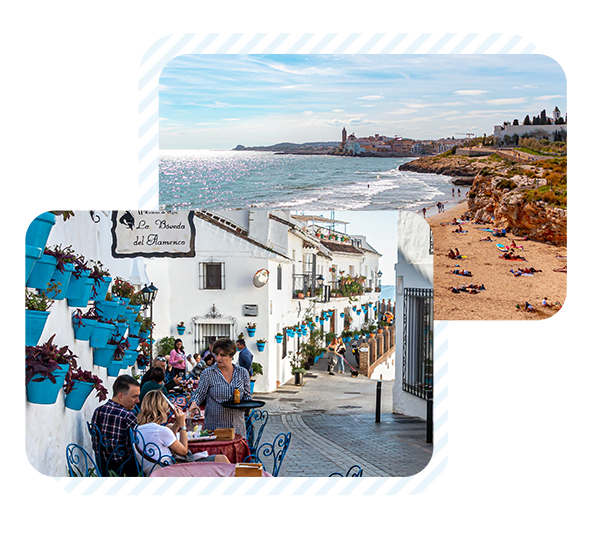 Languages most commonly translated into Spanish

Spanish
English


Spanish
French


Spanish
German


Spanish
Portuguese


Spanish
Italian

With our Spanish language translator you can learn like a true native speaker
Advanced vocabulary
| | |
| --- | --- |
| Chirigota | Typical Cadiz carnival music group, with a carnival character, which sings mainly in the streets and offers the city humorous coplas. |
| Cachondeo | This word refers to a situation of fun and joking in the Spanish context. |
| Sobremesa | The time after a meal when people sit around chatting. |
| Trasijado | Something that is in disrepair or disorder. |
| Tapeo | Activity that involves going from bar to bar to sample tapas. |
Other curiosities
Happiest language: According to a study by the University of Vermont, Spanish is the happiest language in the world, based on the use of positive words.
Letter Ñ: Spanish is one of the few languages to use the letter "ñ". It was introduced by medieval scribes to save space.
The Spanish alphabet: The Spanish alphabet originally had 29 letters, but in 2010 the RAE eliminated the letters 'ch' and 'll'.
Global language: Spanish is the second most spoken language in the world in terms of native speakers, after Mandarin Chinese.
Royal Spanish Academy (RAE): Founded in 1713, the RAE is the institution that regulates the Spanish language and produces the official dictionary; its motto is: "Limpia, fija y da esplendor".
Arabic influence: An astonishing 8% of Spanish vocabulary comes from Arabic, due to almost 800 years of Muslim occupation of the Iberian Peninsula.
Spanish and science: Spanish is the second most used language for scientific communication after English.
More about spanish language
Discover the best spanish expressions about leisure to enjoy and communicate like a native speaker. Let's go!

Discover the best English expressions for social events and become the life of the party. Learn how to 'romper el hielo', be 'el alma de la fiesta' and 'soltarse el pelo'. Master these expressions and dazzle at any social gathering - don't miss out!"

Have you ever heard "estado por las nubes" or "roto el hielo"? In this article we will explore Spanish expressions related to the weather. Improve your Spanish with these native expressions.
Our Spanish language translator offers you support in multiple services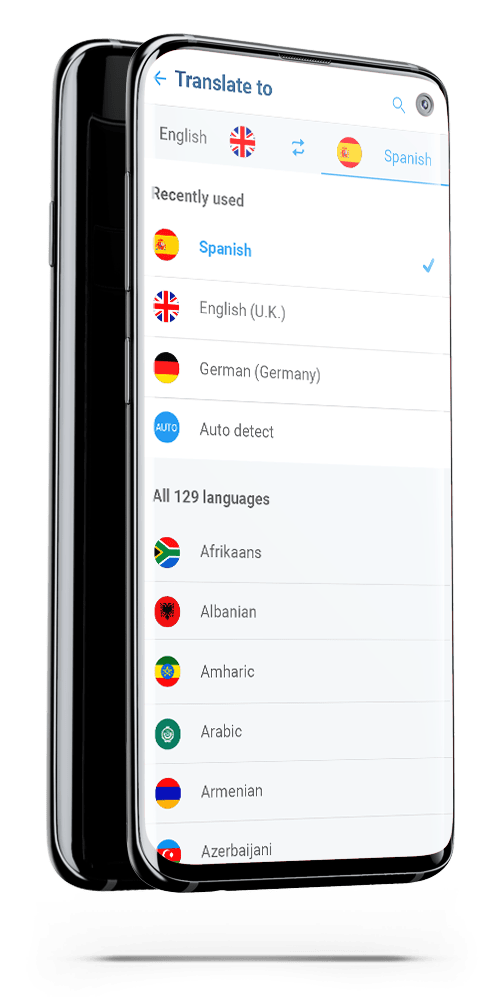 Audio and Text Translation
Spanish language translator among over 125 available languages.

Remote Conversation Translation
Speak and translate to Spanish with people anywhere in the world remotely.

Real-time Translation
Speak freely. Translate Spanish instantly in real-time.

Learning with Smart Books
Expressions, essentials, culture, verbs, travel, and technical language all in one place.

Audio Playback of the Translation
Listen to the audio of the Spanish translation to improve your pronunciation.

Voice Recognition
Speak freely and your app will translate for and to you.


Experience the latest advancements in AI-powered translation with our Spanish language translator